Why Shoot the AirSaber?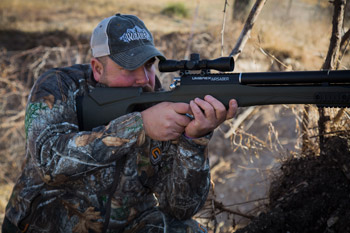 Back at the range, one answer to this question became very obvious with each pull of the trigger. The Air Saber delivers a huge dump of power with each shot. We had several high-density foam targets set up at about 25 yards. Provided you hit very low, like almost in the dirt low, the targets would remain upright. A hit anywhere near the midline of the target it would roll it. Hit it high and it would roll a couple of times. 124 ft.-lbs. of energy is quite a substantial delivery to a target. Consider that the minimum draw weight required for archery equipment when hunting whitetail deer is 40-45 lbs. (depending on your state's regulations), the AirSaber is delivering substantially more energy.
Due to this massive power output, the AirSaber requires a special arrow. These reinforced carbon-fiber arrows are strong enough to withstand the propelling blast of air that launches them. To be sure, standard arrows should never be used on the AirSaber for this reason. What you can use from your standard bag of archery equipment are conventional or mechanical broadheads, like those from Innerloc, because each AirSaber Arrow is tipped with a threaded Adapta Point. The field point that comes on the included arrows weighs 100 grains and the carbon fiber arrow itself weighs in at 250 grains.
Who Is The Umarex AirSaber For?
PCP airgunning is growing at a very quick pace. With the growth of PCP air rifles comes the proliferation of high-pressure air filling devices. Like prices for PCP airguns, HPA pumps and high-pressure air compressors have also become much more affordable. Shooters and hunters looking to broaden their horizons into another shooting discipline or just looking to stay ahead of the pack where it comes to cool gear can pick up the AirSaber to fill those voids. Additionally, there is a growing contingent of states that are coming on board with air-powered hunting equipment including air-powered archery equipment.
An Air Bow That Has It All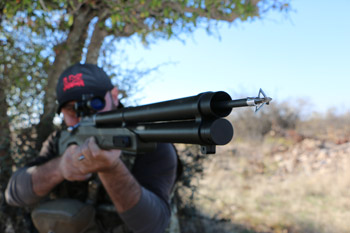 The AirSaber looks very much like a conventional PCP air rifle. The stock is perfectly sized all around for a comfortable fit for many various body types and sizes. Three sections of Picatinny rail are mounted on the extreme forward end of the stock. These will come in very handy as you will certainly need a place to mount a quiver. Since this does require high-pressure air to fill the tank it comes with the proper fill probe to top off the tank. This probe has the common 1/8" Foster quick release on the tube end for easy adaptation to pumps or tanks. Clever eyed folks will be quick to see a semblance to the Walther G22 .22 caliber bullpup rifle from the trigger guard on the back. Even if you don't see that, you will feel that the ergonomics are indeed very comfortable for field or target work.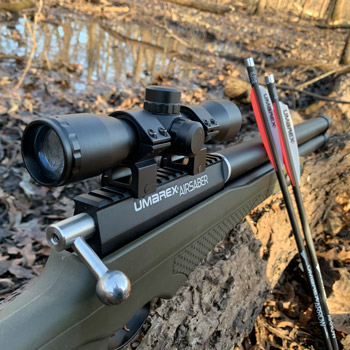 Initially, shooters will receive the compact 4X32 Axeon Optics Archery Scope with the AirSaber for a range-ready package. This scope has a special archery scaled reticle that allows shooters to "pin" the ranges they will commonly shoot on the horizontal bars. Shooters can also opt to attach their preferred optic or sight on the top side Picatinny rail. This section of rail will accept standard Weaver/Picatinny rings or one-piece scope mounts and a wide variety of red-dot style sights. Shooters can opt to fill up the HPA tank at most local dive shops, airgun specialty shops, or from their own tank or pumps.
Umarex USA is coming into its own in terms of developing products for its market here in North America. The Umarex AirSaber is yet another innovative product and this one comes with no strings attached, three arrows with field tips and an optic. Not only that, the AirSaber is entering the market at an amazing price. With the Axeon Optics scope, you can expect to see the AirSaber for about $370 and you can pick up an extra six arrows for just $40.
Get The Solutions You Need
We Always Hit The Target